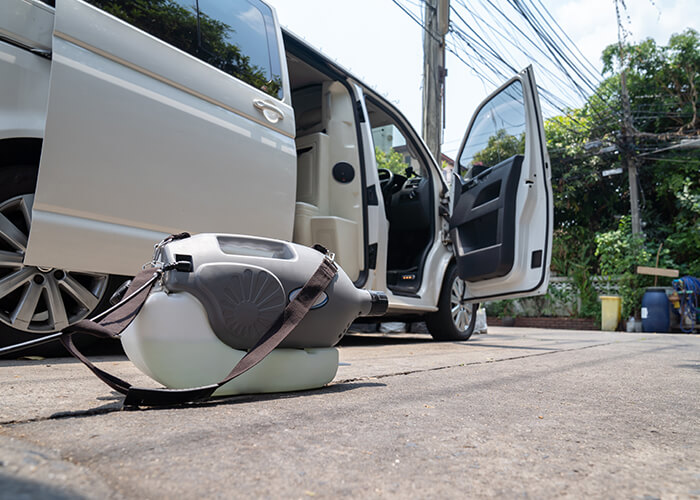 Having a death occur on your property can be very traumatic, especially if it was a violent death. You may not know where to turn to afterwards. With police officers often present on the scene, and the business of any subsequent investigation, the whole process can be overwhelming. Afterwards, you may be tempted to simply take care of the situation yourself. Don't. You need an expert to make sure that any kind of a mess left behind on your property is completely eliminated in a safe and thorough manner. We understand that you need to remove the signs of the crime in order to get on with your life. The trained professionals at BioTeamAZ are ready to help you through this difficult time.
What Happens After a Death Occurs
Once a death has been identified on your property, you will likely find yourself surrounded by police officers, crime scene investigators, and forensic professionals. These people have a job to do, and it does not include cleaning up the mess left behind by the crime. You may not have access to certain areas on your property until the police have thoroughly recorded the scene. Once they have allowed you to go back to living your normal life, it will be your responsibility to clean up the mess.
Crime Scene Cleanup
You may not know it, but cleaning up after a homicide or suicide is a natural part of the cleaning industry. Forensic cleanup services used to be uncommon, but now you can find forensic cleaners in most major cities. You may think that blood and gore are the most common parts of this job, but actually, the service is much more comprehensive than that. For example, the removal of dangerous objects from the scene is often covered by forensic cleaners. There may be chemical or biological contamination on the scene that needs to be cleaned up for the health of your family.
Many crime scene cleanup specialists don't require that you or your family move out during the cleanup, even if there was a violent death on the property. Instead, the cleaners will work with you to safely and effectively remove signs of the crime, including all bodily fluids, which are also known as biohazards. Blood cleanup specialists often come from the medical field, and have a special understanding about the type of cleaning agents that are necessary to the removal of such biohazardous materials. Did you know that permits are actually required to move and dispose of bio hazardous waste? The professionals at BioTeamAZ can handle all those details for you.
Specialized Cleaners with Forensic Skills
When you want the Phoenix cleaners with skills you can trust, make sure you contact BioTeamAZ. We handle decomposition, undiscovered death blood cleanup, biohazard cleanup, biological waste, odor removal, emergency vehicle decontamination, jail cell cleaning, evidence room cleaning, homicide cleanup, and more. To get started, contact us by filling out the form below. It will only take a minute, and you'll be able to get the high quality service that will allow you to move on.