Flagstaff's Most Trusted Crime Scene Cleanup Company
Situated in Coconino County amidst the largest ponderosa pine forest in the country, Flagstaff has a population of over 75,000 residents. Like any sizeable city, crime unfortunately occurs from time to time. Though more commonly caused by violent offenses, even non-violent crimes can necessitate professional cleanup and remediation services. If faced with difficult situations requiring specialized cleanup, BioteamAZ is ready to lend its expertise and assistance.
The BioteamAZ Flagstaff team understands the immense challenges presented by crime scenes, and we make our services available to assist — call us at 602-770-4972. Our technicians have extensive experience providing discreet, complete crime scene remediation for a range of traumatic situations including homicides, blood and bodily fluid cleanup. With IICRC certification and rigorous training, we follow precise protocols to thoroughly sanitize affected properties down to the smallest detail. Our comprehensive process not only restores the contaminated site but also provides guidance and compassion as we assist you in navigating the insurance claims process.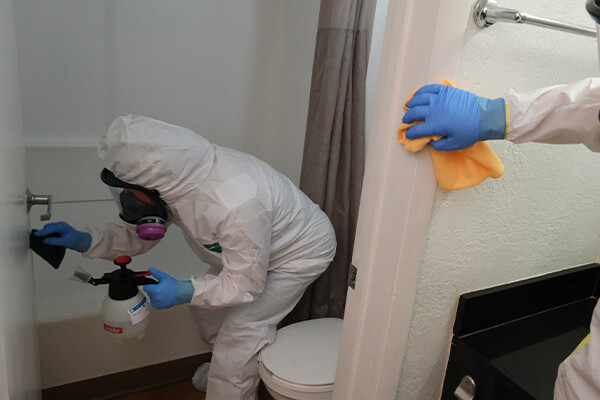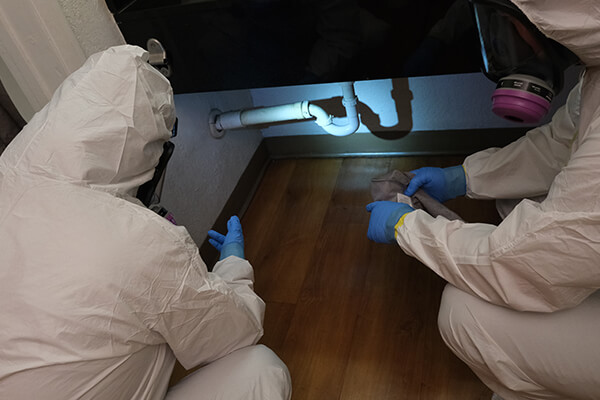 How BioteamAZ Approaches Crime Scene Cleanup in Flagstaff
Depending on the nature of the crime, the process of crime scene cleanup can vary in terms of duration and scope. Whether it's a homicide or a theft, blood, bodily fluids, potential controlled substances, and other unknown biohazardous waste can be spread across a wide area, leading to increased contamination. Once the Flagstaff Fire and Police Departments have cleared the scene, we can begin our cleanup process:
Assessment – Prior to cleaning, our technicians will perform a thorough assessment of the crime scene to determine the scope of the impacted area, ascertain the type of contamination, identify everything that has been contaminated, and develop a comprehensive plan of action in order to most effectively treat the impacted area.
Removal of Contamination Source – Our technicians will then begin working to remove all items that have been contaminated. The range of contamination can be greatly dependent on the nature of the crime. Gunfire, drugs, and chemical deterrents can drastically widen the area of impact, spreading blood, bodily fluids, and potential pathogens well beyond the initial site of the crime.
Decontamination & Cleanup – We work methodically to disinfect all impacted areas using EPA-approved disinfectant chemicals on all non-porous items. Contaminated porous items (which includes personal items as well as flooring and drywall) will need to be properly removed and destroyed at a biohazardous waste treatment plant per the standards set out by the ADEQ regarding biohazardous waste.
How BioteamAZ Can Help You
Dealing with the fallout of a crime is difficult enough without extra worries over biohazard cleanup and insurance claims. Our compassionate Flagstaff crew performs comprehensive site assessments before and after remediation, gathers essential paperwork, and guides you step-by-step through the full insurance claims process to alleviate your burden.