Phoenix's Most Trusted Crime Scene Cleanup Company
Phoenix, the capital of Arizona and the seat of Maricopa County, is the largest city in the state and the sixth largest in the entire US, with a population exceeding 1.658 million people. As a densely populated metropolis, both violent and nonviolent crimes are relatively common occurrences in Phoenix. When unfortunate incidents happen, specialized cleanup can be required—that's where BioteamAZ comes in.
We understand the unique challenges posed by crime scenes requiring cleanup services, and we are here to offer our assistance – call us at 602-770-4972. With expertise in comprehensive and discreet crime scene cleanup services, we address a range of situations, including homicides, blood and bodily fluid cleanup, and other traumatic events. Our team of expert technicians hold certifications from the IICRC, and will meticulously clean, sanitize, and disinfect your property, adhering to the highest industry standards. Throughout the cleanup process, we provide not only physical restoration but also guidance, compassion, and care, recognizing the sensitive nature of these situations.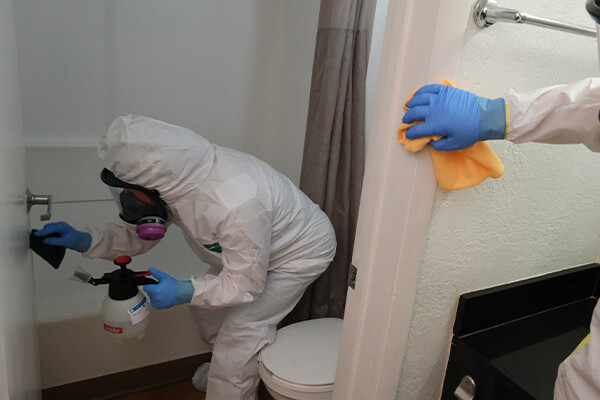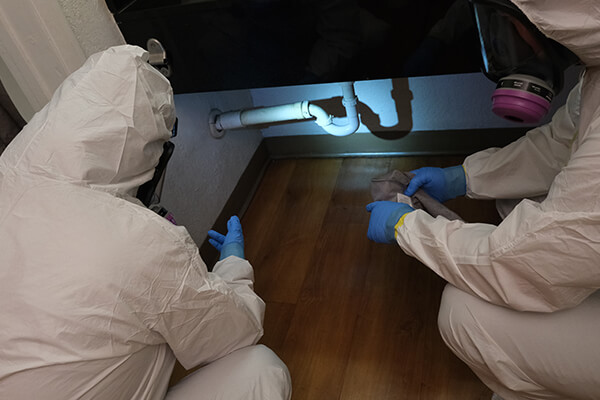 How BioteamAZ Approaches Crime Scene Cleanup in Phoenix
Cleaning up a crime scene can look very different depending on the nature of the crime. Though violent crime is often what first comes to mind, even non-violent crimes such as theft can result in the spilling of blood and other bodily fluids. Our technicians will be taking proper safety precautions and be wearing full PPE during the cleanup. Cleanup for crime scenes can only begin once first responders have cleared the scene. Once the Phoenix Fire Department and Phoenix Police Department have given us the go-ahead, the cleaning process can begin:
Assessment – Prior to cleaning, our technicians will perform a thorough assessment of the crime scene to determine the scope of the impacted area, ascertain the type of contamination, identify everything that has been contaminated, and develop a comprehensive plan of action in order to most effectively treat the impacted area.
Removal of Contamination Source – Our technicians will then begin working to remove all items that have been contaminated. The range of contamination can be greatly dependent on the nature of the crime. Gunfire, drugs, and chemical deterrents can drastically widen the area of impact, spreading blood, bodily fluids, and potential pathogens well beyond the initial site of the crime.
Decontamination & Cleanup – We work methodically to disinfect all impacted areas using EPA-approved disinfectant chemicals on all non-porous items. Contaminated porous items (which includes personal items as well as flooring and drywall) will need to be properly removed and destroyed at a biohazardous waste treatment plant per the standards set out by the ADEQ regarding biohazardous waste.
How BioteamAZ Can Help You
Traumatic events are already difficult enough for anyone without having to add the burden of cleaning and dealing with insurance. Our Phoenix team performs thorough testing before and after cleaning, retrieves critical documents, and helps you manage the entire insurance claims process from beginning to end.