Tucson's Most Trusted Crime Scene Cleanup Company
Situated in Pima County south of Phoenix, Tucson has a population exceeding 500,000 residents. As with any large city, Tucson sees its share of criminal activity from time to time. While cleanup needs frequently stem from violent crimes, even non-violent offenses can result in hazardous situations requiring professional remediation services. If you find yourself facing the unfortunate need for crime scene cleanup services, BioteamAZ is here to help.
Our experienced team helps guide you through crime scene cleanup discretely and completely – call us at 602-770-4972. We provide a variety of crime scene cleanup services – from homicide cleanup to bodily fluid cleanup after unforeseen accidents. Following the most rigorous industry standards, our IICRC-certified technicians thoroughly clean, disinfect and sanitize affected surfaces and materials on the property. Throughout the cleanup process, we provide full physical restoration of the scene along with compassionate support every step of the way.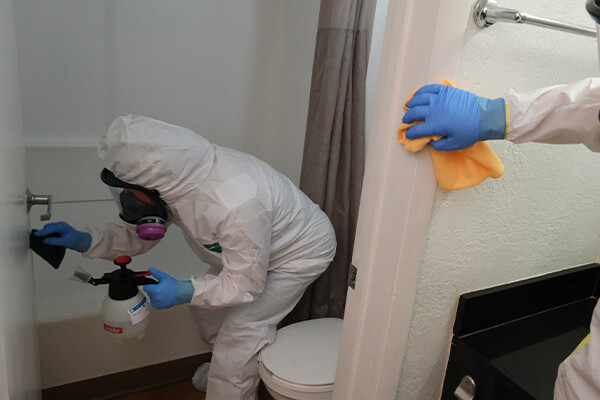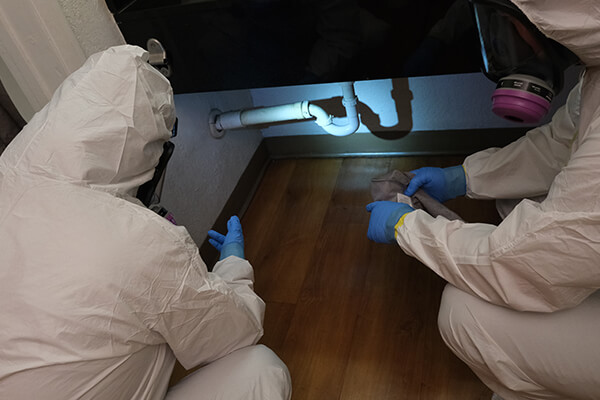 How BioteamAZ Approaches Crime Scene Cleanup in Tucson
The process for cleaning up a crime scene varies based on the specific nature of the incident. Hazardous contaminants like blood, bodily fluids, and drugs often spread across a wide area, increasing risks. Once the Tucson police, fire department, and other first responders have secured the scene, our skilled technicians will initiate the cleanup process. working diligently to restore the property:
Assessment – Prior to cleaning, our technicians will perform a thorough assessment of the crime scene to determine the scope of the impacted area, ascertain the type of contamination, identify everything that has been contaminated, and develop a comprehensive plan of action in order to most effectively treat the impacted area.
Removal of Contamination Source – Our technicians will then begin working to remove all items that have been contaminated. The range of contamination can be greatly dependent on the nature of the crime. Gunfire, drugs, and chemical deterrents can drastically widen the area of impact, spreading blood, bodily fluids, and potential pathogens well beyond the initial site of the crime.
Decontamination & Cleanup – We work methodically to disinfect all impacted areas using EPA-approved disinfectant chemicals on all non-porous items. Contaminated porous items (which includes personal items as well as flooring and drywall) will need to be properly removed and destroyed at a biohazardous waste treatment plant per the standards set out by the ADEQ regarding biohazardous waste.
How BioteamAZ Can Help You
Crimes scenes and other traumatic events are hard enough to deal with without extra worries over cleanup and insurance, so our Tucson crew conducts complete pre- and post-cleaning assessments, gathers important documents, and supports you through the whole insurance claims process to lift those burdens.