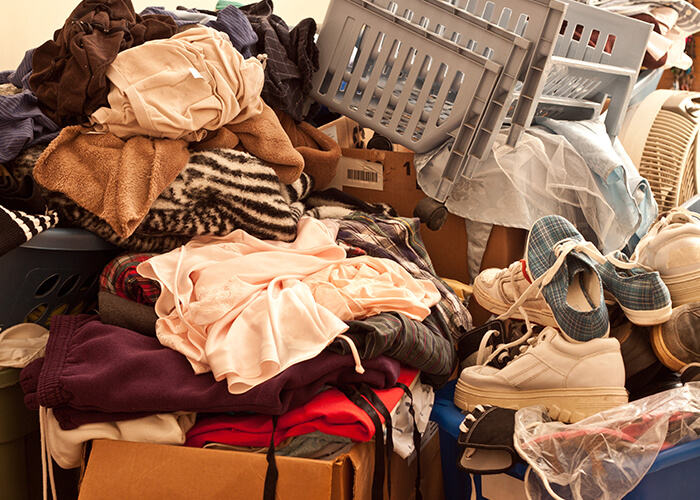 In a book that's just been released, The Gentle Art of Swedish Death Cleaning: How to Free Yourself and Your Family from a Lifetime of Clutter by Margareta Magnusson, the author describes a new kind of decluttering called Swedish Death Cleaning. From the Swedish word "döstädning," ("dö" meaning death and "städning" meaning cleaning), the author explains, "In Swedish, it is a term that means that you remove unnecessary things and make your home nice and orderly when you think the time is coming closer for you to leave the planet." Instead of leaving closets full of boxes and old junk, Margareta suggests cleaning it before others have to. Though she recommends it for those 65 years of age and above, anyone can benefit from going through their things in this way.
Though Swedish death cleaning can seem morbid at first, it is a wonderful and practical way to help us go through our belongings and ease the way for those left behind. As we live our lives, our tastes and hobbies change and it's easy to store and ignore what we no longer want. Before long, we have boxes and even rooms full of things we don't use and have even forgotten. Instead of being surrounded by these things and then letting our family deal with them, take the opportunity of Swedish Death Cleaning to sort all those boxes out and clear the attached emotional weight out of your life.
How to Do Swedish Death Cleaning
Though sorting through all your belongings can seem overwhelming at first, try breaking it up by tackling one small area at a time. Other suggestions include:
Start with something with fewer emotional connections such as your shoes and the clothes in your closet. If you start with memorabilia and photographs, you may get stuck.
Ask yourself if another person would be happier if you saved an item. If not, you can always keep what you want just for yourself in a box marked "Just for me" that they know at a later date can be discarded.
Hand down family heirlooms now so you can tell your family the stories behind them.
Give special belongings as gifts to friends and family such as a favorite scarf they admire or a beloved book.
Donate items and furniture you no longer want.
Make sure your records are in order and let other know what your end of life wishes are.
What are the Benefits of Swedish Death Cleaning?
While Swedish Death Cleaning is about preparing our homes for our passing, this way of cleaning also holds a lot of benefits for the ways we live our lives. We often don't realize it, but the things we own have their own weight in our minds and letting it go lifts us up. These benefits include:
It's easier to make choices in our homes without sorting through all the junk.
We don't have guilt about the items we're not using.
We no longer have to spend all that time taking care of our things and can spend more time enjoying our lives instead.
It feels better to only have what you really want and need.
With fewer items, it will be safer to walk around your house.
We know people already have the family heirlooms and gifts we want to pass down.
All our paperwork will be in order for those who will need to go through it.
Remember to Reward Yourself
Once you've finished a section of sorting, don't forget to reward yourself with something that gives you life. Whether it's a walk, baking cookies, or going out for coffee with a friend, it's a reminder that Swedish Death Cleaning isn't about dying but about living. It's about evaluating, remembering, valuing, and choosing what's important in your life and in your home.
Need Help Decluttering or Cleaning Up?
There are companies that can help you declutter if it feels too overwhelming for you or if you don't want do by yourself. Check out our decluttering and cleanup services and let us know if we can be of assistance.