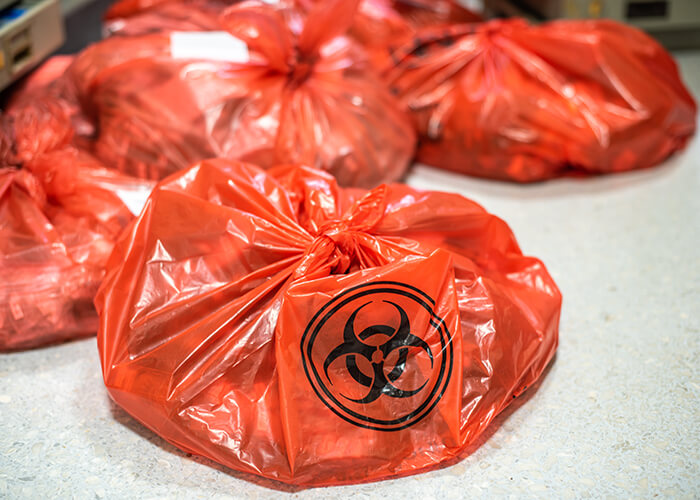 When a traumatic injury, homicide or suicide occurs, it is imperative that a licensed, bonded and insured company is contacted. Skilled professionals have the training, equipment and personnel that allow them to accurately clean and safely dispose of the biohazard waste properly.
You should not attempt to clean the crime scene area on your own, as there can be traces of blood and other bodily fluids, as well as contagious diseases, such as HIV, Hepatitis B & C, AIDS, Tuberculosis and much more. These items must be handled safely. At BioteamAZ, we have over 10 years of experience with crime scene cleanups and can provide you with the level of service and compassion you require.
The Delicate Nature Of These Situations
Crime scenes are particularly hazardous areas that must be taken seriously. Depending on the circumstances surrounding the event, there may not only be biohazard waste, but offensive odors that can make the space uninhabitable.
At BioteamAZ, we are compassionate, sympathetic and understand the sensitive nature surrounding the events that have transpired at your home or business. We are members of the AMA and NAA, and we hold ABRA and ADEQ certifications. Our company is familiar with the strict OSHA guidelines that must be followed and we have the experience, permits and knowledge that allow us to dispose of and clean your property effectively, so that it can be returned to its original condition.
Our company remains a preferred choice for Phoenix crime scene cleaners in Arizona because we offer 24-hour Emergency Service. When you need your property cleaned immediately, you will find that our technicians can arrive at your residence or business without delay. We handle the entire process from start to finish, so that you do not have to worry about a thing.
Experience That Matters
Our highly trained professionals are familiar with various crime scenes and contamination, as many of our employees have military, police, fire and medical field backgrounds. You can rest assured knowing that our personnel will conduct themselves professionally at all times.
The Right Equipment
To continue providing the superior service that our company is known for, we employ the use of high tech equipment that can remove the odors that may be present when your property experiences a tragedy. Additionally, we use sanitizers, cleaners and other agents to completely rid your property of any remains.
Additional Services
We are also equipped to handle Decomposition, Undiscovered Death Blood Cleanup, Biohazard Cleanup, Biohazard Waste Disposal, Odor Removal, Emergency Vehicle Decontamination, Jail Cell Cleaning, Evidence Room Cleaning, Homicide Cleanup, Hoarding Cleanup, and much more.