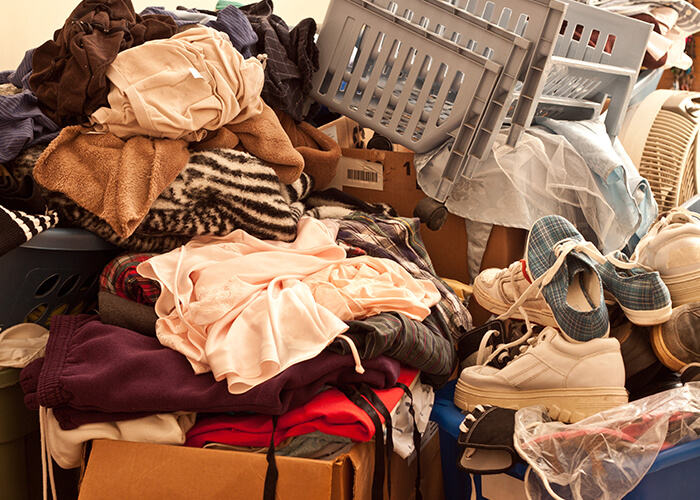 Tips For Cleaning Up A Hoarder's Home
The first and most difficult step is actually starting the job.  Many may immediately feel overwhelmed by the sheer scope of hoarding clean up.  Many hoarders have been accumulating junk, garbage, and other object for many year, and it can often be shocking to see the condition of their home.  This means that it could be an all-day job, or possibly several days.
The best piece of advice for getting started is to just get started.  Other tips for hoarding clean up include:
Protect Yourself – Disposable gloves, dust masks, and goggles are an absolute must during hoarding clean up to avoid dangerous exposure to mold, parasites, and other health concerns which may be present in a hoarder's home.
Get A Dumpster – You will likely find yourself with hundreds of trash bags for disposal; make sure you have a place to put them.  Many city sanitation services have large dumpsters available for rent and may include haul-off and disposal fees.
Start Outside – The exterior of the home will likely become the best place to organize the contents of the home, starting there is the best way to make sure you have room to sort and separate later.
Pick A Room – The bathrooms and kitchen will likely be the most difficult and hazardous to clean.  Tackle them first or leave them for last – the decision is yours.
 De-Clutter First – Intensive cleaning, such as scrubbing walls, dusting, and vacuuming can wait until all of the garbage and clutter are out of the room.
 Work Top To Bottom – Start with objects stacked up on tables, beds, chairs, etc. and work down toward clutter on the floor.  Closets will likely be extremely disorganized and stuffed full – leave them for last.
Separate – Hoarders do not often differentiate between what is trash and what isn't.  Separate items into three groups:  Trash, maybe keep, and definitely keep.
Sort – Bag up the trash and throw it in the dumpster.  Remove maybe keep and definitely keep items from the room and put them in designated spots for further evaluation. You may also want to remove larger items, like furniture, for more intensive cleaning.
Move On – When the first room is free of clutter, move on to another and start again.
 Intensive Cleaning – When the entire house is clutter-free begin the intensive cleaning step.  Again, start at the top with ceilings and ceiling fans.  Move on to walls, windows, and any furniture left in the room.  Finish with the floor and keep in mind that the carpet may need to be pulled up and disposed of – if so, trash it and scrub the floor boards.
 Address Repairs – Structural repairs, painting, and re-carpeting may need to be done before the home is ready to be moved back into.  It may be best to have the home professionally evaluated to ensure that it is truly safe to move in.
Clean Up Items – Once the trash is gone, do any necessary cleaning to other items and move them back into the home, donate unwanted items to charity, or have a garage sale.
Extreme Conditions Needing Professional Sanitation
Some hoarding clean up may be too hazardous for an amateur cleaning crew.  Excessive mold, animal waste, and other dangerous substances may require a professional hazardous material removal and sanitation service to ensure the job is done safely and completely.
The most experienced service for hoarding cleanup in Phoenix, Scottsdale, Tucson, and throughout Arizona is BioteamAZ.  Put your mind at rest and know that your home will be left a safe and healthy environment, contact BioteamAZ now.