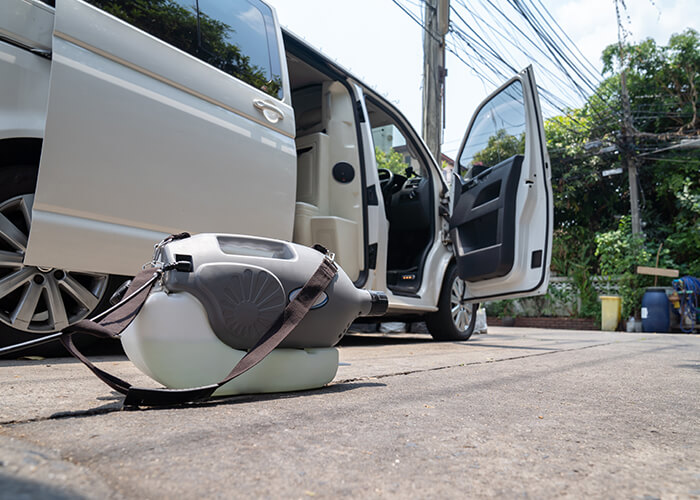 When someone has died by themselves without anyone else knowing about their passing, the dead body can quickly decompose, particularly in the high heat of Mesa, Arizona, leaving dangerous biohazardous waste behind throughout the structure. If you need help cleaning up after the death of someone, call us at BioteamAZ for fast, professional service.
Can I Clean Up After the Dead Body Myself?
Whether the dead body has decomposed for hours, days, or even weeks, there are huge emotional and physical complications from attempting to clean up after one's passing. As blood, tissues, and other body fluids decompose, they infect the surrounding materials, permeating the area, and cause a strong odor. This bio hazardous material and any porous surface it touches can carry multiple blood-borne pathogens, viruses, and bacteria such as C. Diff, HIV, Hepatitis B, and Hepatitis C and are thus classified as bio hazardous waste. No matter how well an area is cleaned, if any of this material is missed during the cleanup, it can infect other people and cause life-threatening diseases for years to come.
Instead of putting your health in danger during your time of grief, not to mention the liability, call BioteamAZ. Our experienced team of professionals are here to lift the burden off your shoulders and make sure the area is safe for future use.
What is the Dead Body Cleanup Process in Mesa?
When you call us at BioteamAZ, our skilled team will arrive at your Mesa home or business in an unmarked vehicle with personal protective equipment and professional-grade cleaners to meticulously remove all bodily fluids and tissues. Knowing what to look for, we then remove all porous material that cannot be saved including clothing, furniture, wood, and carpet. If an item can be saved, we will disinfect and decontaminate it before returning it to you. Using powerful cleaning agents and equipment, we then clean, decontaminate, and sanitize the entire area for you as well as removing any lingering odor. We'll even help you fill out the home owner's insurance claim as most insurance companies cover our fees.
The Best Dead Body Cleanup Team in Mesa, Arizona
Our professional and compassionate staff have extensive experience cleaning up bio hazardous material and know exactly what to look for in any given situation. We are the proven experts in bio hazardous cleanup for property owners throughout the Mesa, Arizona area and we're here to assist you. We offer:
Fast 24/7/365 Service
No Out of Pocket Costs in Most Cases
Locally Owned & Operated Business
Licensed, Bonded & Insured
Contact BioteamAZ
If you need service for your Mesa, Arizona home or business or if you have any other questions, call us any time of day, 24-7, at (602) BIO-TEAM and we will be happy to help. Our priority is to give you the best service as we do everything we can to make this difficult time easier for you.