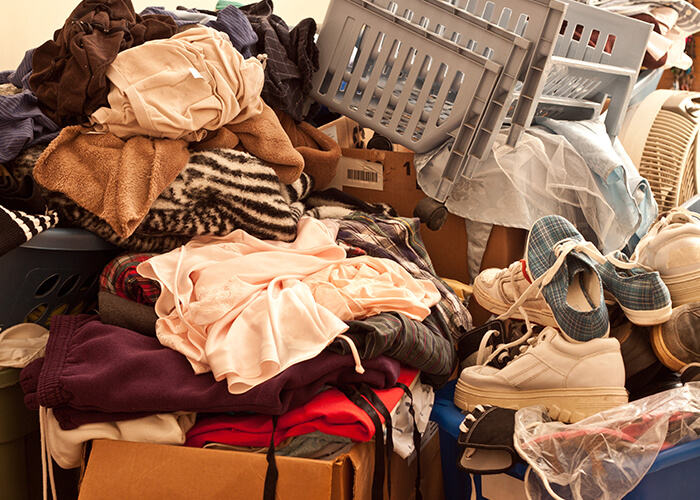 We see all kinds of hoarding throughout the Phoenix area.
Animal Hoarding
Trash Hoarding
Collectible Hoarding
Books Hoarding
and more.
While each hoarding category has similar issues in the house, no two hoarded houses are the same. Since every hoarding situation is different, there aren't any real set costs for cleaning up a hoarded home. People call us all the time wanting a cost or a ballpark figure. This is very difficult to do without seeing the situation so we offer free hoarding cleanup estimates in the Phoenix area. Most insurance carriers do not cover hoarding cleanup so it's a good idea to have a free estimate for the hoarding cleanup before you begin.
Hoarding Cleanup Costs Considerations
There are many factors to consider when providing free hoarding cleanup estimates. Outside of the hard costs like dumpsters and dumping fees, there's also labor, protection gear, and biohazard cleanup protocols. Here's a list of some of the considerations that go into the free estimate:
Distance from house to dumpster
Flights of stairs
How many Dumpsters
Dumpster Rental Fee and Dump Fee
Is there a place to put the dumpster
How much sorting will be involved
What type of biohazards exist
Amount of clutter to be discarded
Levels of Hoarding
We prefer to provide free hoarding cleanup estimates on site. When this is not possible, or a ballpark figure is required before moving forward, we will use these levels of hoarding, the square footage of the area, and then ask some questions about the items.
Level I – ankle high
Level II – knee high
Level III – waist high
Level IV – shoulder high
Level V – above the head
The type of debris and amount of debris greatly affects pricing. Additionally, in the case where biohazardous material are present, the biohazards cannot be discarded in a regular dumpster. It must be handled and discarded properly and in compliance with the rules and regulations of Arizona. There are so many factors that affect pricing that this type of pricing model is a sheer guestimate. Even an onsite estimate can be difficult because of the layers of clutter and the lack of access to areas in some cases. However, an onsite free estimate is still going to give you a more accurate expectancy of cost than this level method.
How Long Does the Free Hoarding Cleanup Estimate in Phoenix Take?
Arrangements are made to meet someone out at the property. We do a lot of hoarding cleanup jobs in Phoenix, and it doesn't take us long to the survey the area and come up with estimate. It usually doesn't take more than 15 min at the site to provide the free hoarding estimate in Phoenix.
Get Your Free Estimate
Cleaning up a hoarded home can be overwhelming and seemingly take forever. We can get a home cleaned out in usually a day. Sometimes it can take 2 or 3 in more extreme cases. Stop wondering how much it's going to cost to get help, and call us today for your free hoarding cleanup estimate. We are fast, efficient, and reasonably priced.