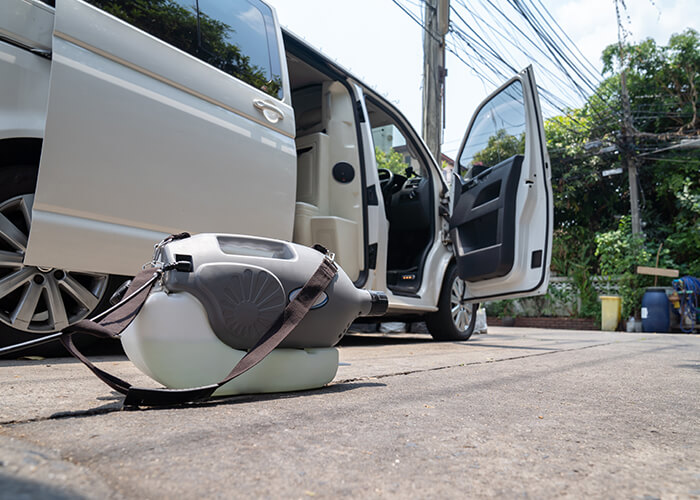 When our biohazard cleaning crew from BioteamAZ pulls up to your Arizona home or business, it will always be in an unmarked vehicle driven by people in plain uniforms. With no logos or business descriptions on the sides of our vehicles, not even that neighbor across the street who keeps an eye on all the comings and goings of the neighborhood will know what is going on in your home.
We keep prying eyes away
There are times in our lives when we need strong support from those nearby and there are other moments when our privacy is of prime importance. One such time when privacy is needed is if you require biohazard cleanup at your home or business. In those moments, it is never a good time to have to answer unneeded questions. Whether the needed cleaning is due to a suicide, crime, hoarding, or infectious diseases contamination, prying eyes is the last thing you want around when you are already feeling overwhelmed and upset.
By using unmarked vehicles and wearing plain uniforms along with coming around the back way whenever possible, we do our best to be discreet and quiet as we work quickly to complete our task.
Protect your business's reputation
Every business owner knows it takes extraordinarily little to damage a good reputation after working hard for years to build it up. With the possibility of rumors running rampant and passerby asking intrusive questions, we do our best to protect you, your staff, and customers from anything people might say after seeing a biohazard cleaning truck at your place of business here in Arizona. With nothing around to advertise our presence, we work hard to keep a low profile while cleaning and removing biohazardous waste from your place of business.
At times, it can be beneficial for people to know the property has been fully cleaned by licensed biohazard cleaners after an event took place that was publicized in the news such as a shooting outside your store or an infectious disease outbreak. In many other cases, however, discretion and privacy is key to maintaining your reputation as a safe and clean business. At BioteamAZ, we strive to help you in this however we can by not attracting unwanted attention so you can get back to regular business as quickly as possible.
BioTeamAZ puts your needs first
Any quality biohazard cleaning business will always put your needs first. At BioteamAZ, we work hard to take care of any biohazard problem you may be having. Whether it is in your private home, rental property, or business, whether in Phoenix, Scottsdale, Tucson, or any area of Arizona, we know how to help protect your reputation and your privacy so you can live in peace and safety for years to come.