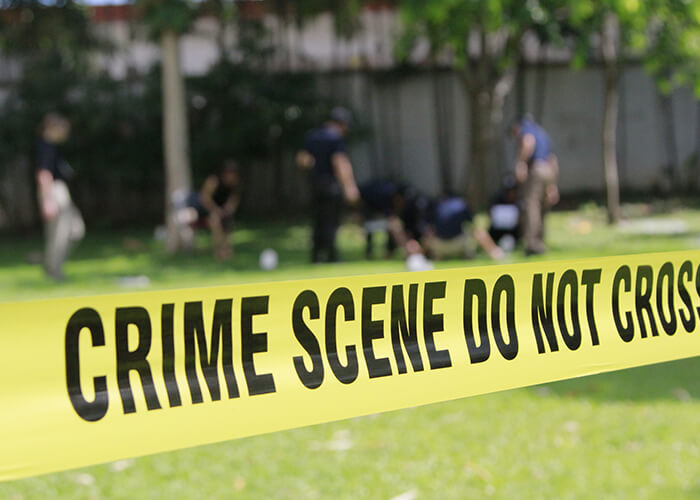 Biohazard Cleanup in Prescott Valley after a Shooting
Amid life's tragedies, BioteamAZ is the trusted Prescott Valley biohazard cleanup company that will be there to clean up the mess left behind so you can move forward in safety. No matter the situation or time of day, our team is prepared to tackle any job involving blood, bodily fluids, diseases, and unhealthy odors so you don't have to.
Proudly serving the community of Prescott Valley, Arizona for many years now, we were recently called to clean a crime scene after a standoff with first responders.
Late on a Friday night, deputies from the Yavapai County Sheriff's office responded to a call about a 65-year-old man firing a gun inside a home. After being told the man was depressed over ongoing family issues, the officers evacuated nearby homes and tried to deescalate the situation with the man then hiding in a shed on the property. Even with SWAT teams and negotiators on the scene trying to talk to the man, he stayed in the shed and refused to cooperate, threatening to kill officers while claiming he wanted to commit "suicide by cop."
After a two-hour stand-off including the suspect firing at the police officers, an officer returned fire and struck the man who was later pronounced dead at the scene. While we are grateful no one but the suspect was injured or killed, we can only imagine how difficult this must be for the friends and family of the man.
It is our hope that by cleaning the blood and bodily fluids from the shed, including all the nooks and crannies it may have soaked into, we have been able to help those left behind grieve in safety. While we can never restore the loss of a loved one or change the tragedy that took place, we can at least make sure no further harm is done by what may be left behind.
BioteamAZ is here to support Prescott Valley
Even while Prescott Valley is one of the safest cities in Arizona, tragedies can and do still happen. If you've been the victim of a violent crime or a crime has taken place on your Prescott Valley property, BioteamAZ is a quick phone call away day or night. No matter how small or large the area is, BioteamAZ knows what it takes to fully remove and clean investigative chemicals, gun residue, blood, bodily fluids, and any lingering odor.
With most property insurance policies covering the cost of crime scene cleanup throughout Prescott Valley and Yavapai County, you don't have to worry about any costs at the time of service to get your property cleaned up and set right. With our years of experience, we'll fill out all the paperwork and answer any of the insurance company's questions so all you have to do is focus on recovery and being with your loved ones.
Rely on the professionals for crime scene cleanup
Only professionals should clean up after violent crimes or crimes involving drug paraphernalia. Not only is it illegal for someone without the appropriate licenses and permits to dispose of blood and bodily fluids, but a person untrained in proper cleanup techniques and protection can easily miss areas blood and other fluids have seeped into. Fluids are then left to damage the structure or cause bloodborne pathogen-related health problems. With our years of experience, we make sure every last drop has been removed and the area fully sanitized and disinfected.
If you have a crime scene needing to be cleaned up in Prescott Valley, Yavapai County, or anywhere in our service area of Arizona, BioteamAZ will always be there to help you by thoroughly cleaning and disinfecting the entire area so you can move forward in safety.
Our thoughts are with those who lost their loved one in this tragedy.