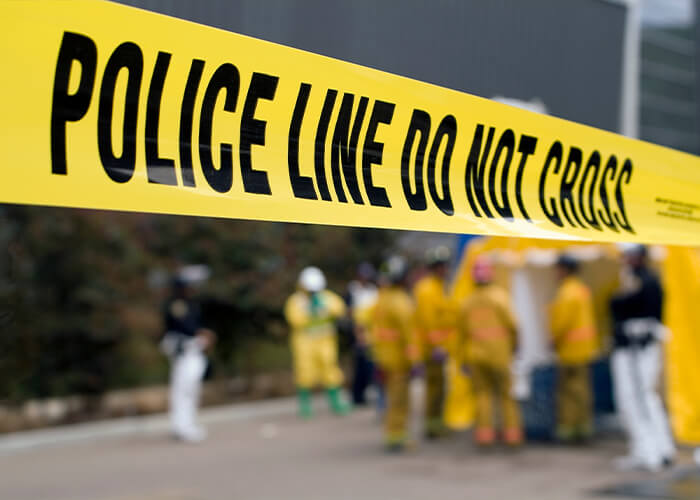 When we hear of a crime occurring in the news, we often think of the victims, the police, the detectives, and the pain of losing a loved one. What we don't often think about is the mess left behind after a crime and who the people are who will clean it.
Police Do Not Clean Crime Scenes
Most folk assume that cleaning up after a crime scene is work the Scottsdale police officers undertake once the scene is cleared and all evidence has been collected. However, the police, along with any investigators, are not trained or equipped to clean up and dispose of bio hazardous waste from a crime scene. In fact, crime scene investigators often add to what needs to be cleaned up by using chemicals and finger print powder during their investigations. It's not just the Scottsdale PD that don't clean up crime scenes, police departments, in general, throughout the U.S. do not either.
Scottsdale Property Owners Are Responsible for the Cleanup
Once the police leave and the ambulance pulls away, the property owner, or the family and friends left behind are the ones responsible to make sure their Scottsdale home or business is cleaned, all bio hazardous material is disposed of, and the area is safe to use for anyone in the future. In fact, if anyone becomes sick in the future from the biohazards left behind, the property owner will be held legally liable for any and all damages. The problem is that, like the police, most people don't know what is required in order to clean up after a crime scene, how to protect themselves from dangerous diseases, or how to legally dispose of bio hazardous waste. In addition, the emotional trauma of cleaning up after a loved one is deep and long lasting.
Scottsdale Crime Scene Cleaners Specialize in Biohazard Cleanup
When it comes to cleaning up after crimes, there are professionals in Scottsdale who specialize in precisely this type of work – biohazard cleanup. These people are specifically trained in:
blood borne pathogens
bio hazardous waste disposal
industrial grade cleaners
personal protective equipment
how to avoid cross-contamination
OSHA regulations
local and federal rules and regulations
odor removal
Once the police have cleared the scene, these crime scene cleaners are called in by the family or business owner to clean the area and make sure the home or business is safe to use. If even one small piece is left behind at a crime scene, the results can be disastrous for years to come as the bio hazardous material soaks into the very structure itself. Thus, crime scene cleaners are thoroughly trained in what exactly to look for in places both seen and unseen. Discreet and experienced, crime scene cleaners also know how to work with victims and their families while making sure all traces of the crime are cleaned or removed.
If you've experienced a crime in your Scottsdale home or business, give us a call for a free consultation and quote. We'll be happy to help you any way we can.